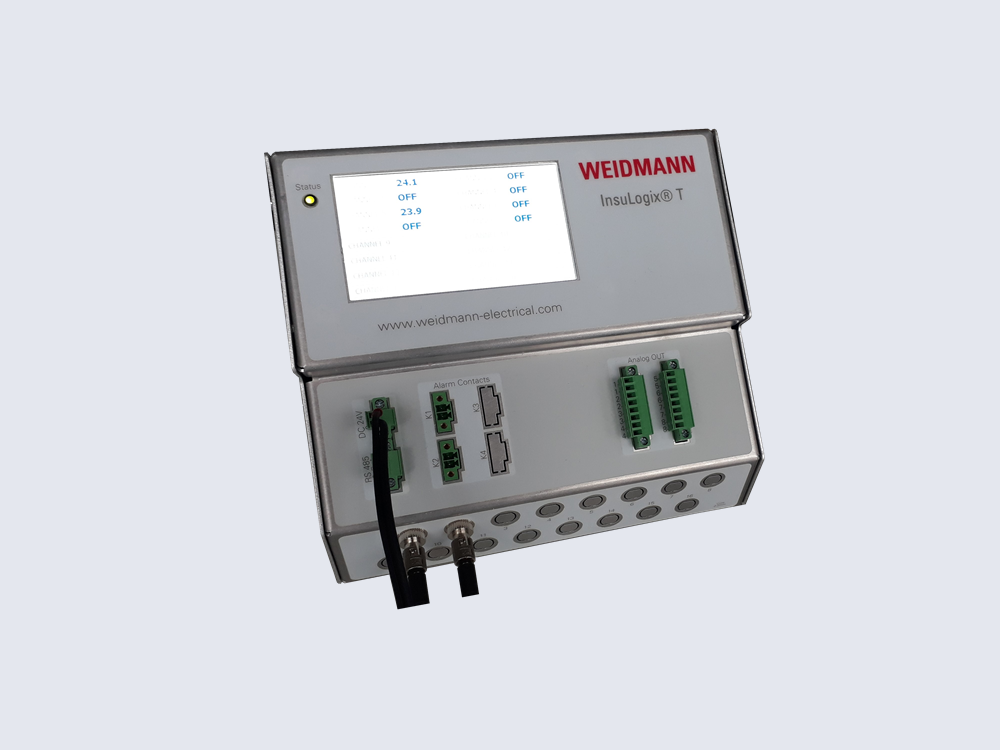 FOTEMP T2
Multichannel DIN Rail Mount Signal Conditioner for Industrial or Medical Applications
The compact FOTEMP-T2 (formerly Insulogix T2) is a multichannel fiber optic thermometer system suitable for the end user or OEM applications. Together with the TS series fiber optic temperature senors, the FOTEMP-T2 thermometer system is the ideal solution for monitoring multiple sensors in microwave, high frequency, high voltage, magnetic or aggressive environments where metal temperature sensors (RTC, TC, etc.) are either inaccurate or hazardous.
The measurement principle is based on the inherent optical properties of gallium arsenide (GaAs) with temperature. The TS series sensors are offered in different configuration optimized for a a particular operating environment or application – food, process industrieis, microwave, harsh chemical, and medical.
The fiber optic thermometer FOTEMP-T2 series is available with either 4 or 8 measurement channels. With a built-in USB interface as standard, the product offers a second interface option of either RS485/Modbus RTU or Ethernet/Modbus TCP.  The product includes up to eight 4-20mA analog outputs and four programmable control relays. Real-time data collection via USB is accomplished with the supplied copy of the FOTEMP-ASSISTANT graphical display/data logging software. Software support for National Instruments LabView™ and Python scripts for Modbus system interfacing are available. An update rate of 250ms per active channel allows for fast response.
Specifications
Number of channels
4 or 8
Power supply
24 VDC, Max 40 W
Measuring range
—200°C to +300°C  NOTE: Actual measurement range depends on calibration option chosen and temperature range of selected TS sensor.
A Option=-40°C to +200°C
B Option=-40°C to +300°C
C Option=-200°C to +300°C
Accuracy
Factory Calibration: &plusmn0.2°C (1σ)
One-Point Calibration: ±—1.0°C (1σ)
Resolution
0.1°C
Measuring time/channel
250ms per active channel (1.0s update rate for 4 channels, 2s update rate for 8 channels)
NOTE: Disable unused channels using supplied FOTEMP-Assistant software
Analog output
4-20mA, 14-bit resolution, up to 8 channels
Relays
4 programmable limit settings.
Contact Rating: 2A at 24 VDC, 2A at 120 VAC.
Maximum 48W or 240 VA.
Interfaces

Standard (built-in): USB (ASCII Protocol)

2nd Interface Option: RS485/Modbus RTU or Ethernet/Modbus TCP

Protocol
USB uses ASCII protocol, compatible with FOTEMP-Assistant Software and software support provided for National Instruments LabView™ applications. RS485 and Ethernet interfaces use Modbus protocol. Protocol information available for custom programming applications.
Data logging
USB interface supports ASCII protocol and compatible with supplied FOTEMP-ASSISTANT data logging software. Output files are Excel compatible.
Optical Interface
ST, compatible with all TS series fiber optic temperature probes
Temperature
Storage: -20°C to +70°C
Operating: -20°C to +60°C
Dimensions/Weight/IP
204 x 209 x 109 mm, 1.2 kg, IP20
Materials
Aluminium housing
Mounting
DIN Rail or Chassis Mount
Warranty
2 years
Calibration Interval
Under normal use, the instrument does not require recalibration. When sensors and cables are changed, a One-Point Calibration is required. Recommended cal interval is 12 months for ISO quality systems.
Specifications subject to change without notice
Features
Robust & durable metal housing
4 or 8 measuring channels
Measuring range: —200°C to +300°C
High accuracy: +/—0.2°C
LCD display
4-20mA analog outputs
4 control relays
USB plus Modbus (choice of RS485 or Ethernet)
Includes FOTEMP-ASSISTANT configuration and data logging software for PC-based USB applications
Applications
EMI, RFI and microwave environments
High voltage environments
Oil-filled transformer monitoring
Process monitoring
MRI and other low/high magnetic field applications
Ordering Information
FOTEMP-T2-X-Y-Z
Fiber Optic DIN Rail Mount Signal Conditioner
where W=No. of Channels: 4 or 8 channels


where 

X=Interface: P0=USB+RS485/Modbus RTU, P1=USB+Ethernet/ModbusTCP
where Z=Calibration Option:

 A=Basic=-40°C to +200°C; B=HighTemp=-40°C to +300°C; C=Extended=-200°C to +300°C
Quick Ship Configurations
| | |
| --- | --- |
| FOTEMP-T2-8-P0-A | 4 Channels, USB, RS485/ModbusRTU, A_Calibration=-40°C to +200°C |
| FOTEMP-T2-8-P1-A | 4 Channels, USB, Ethernet/ModbusTCP, A-Calibration=-40°C to +200°C |
| TS2 Sensors, General Purpose | TS2-02 or TS2-06 |
| TS3 Sensors, General Purpose, Rigid Tip | TS3-10MM-02 or TS3-10MM-06 |
| TS4 Sensors, Harsh | TS4-02 or TS4-06 |
| TS5 Sensors, Medical | TS5-20MM-02 or TS5-20MM-06 |
| Industrial Grade FO Extension Cables (meters) | DIST-C900-03 or -05 or -10 |