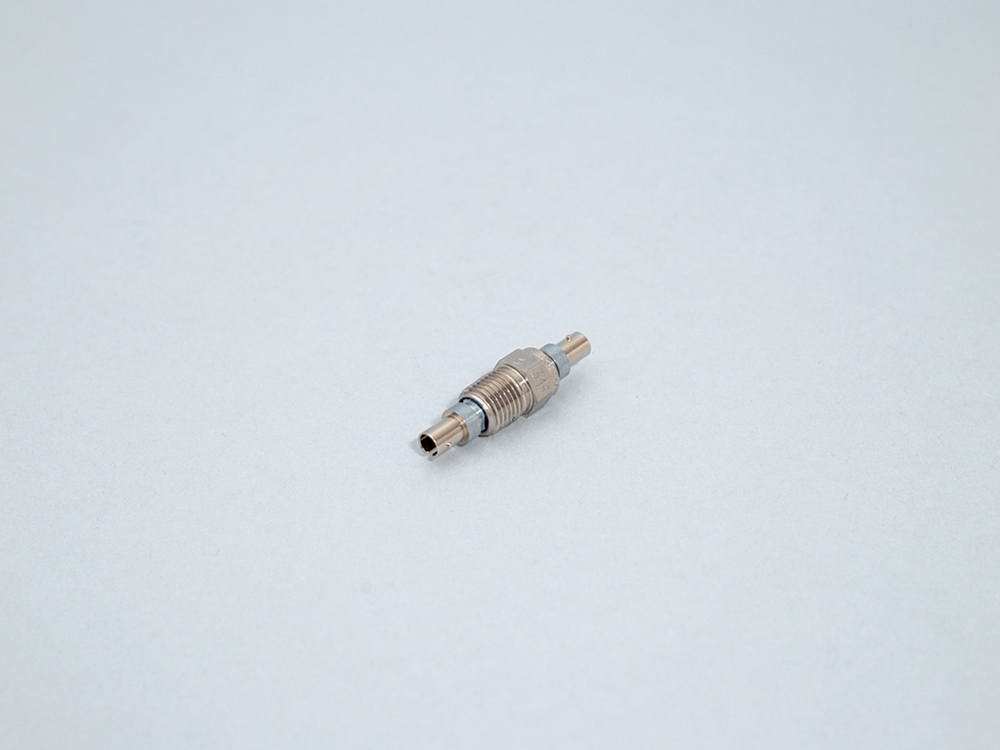 EOF0008
Optical Feedthrough
This optical feedthrough was specifically designed for installation on both pressurized tank walls as well as vacuum chambers.  The device provides a hermetic, leak-proof interface and requires no maintenance.
Industrial applications include the fiber optic temperature sensor feedthrough for storage tanks and oil-filled transformers. In research applications, they provide the interface for vacuum chambers as well as containment and reactor vessels.
On both sides there are standard ST connector receptacles with an internal fiber feedthrough stub forming the hermetic barrier between the two sides. There are no moving parts or loose optical cables. It is best combined with an internally mounted TS2 or TS3 probe with external connection via a DIST-CXXX fiber optic extension cable to the input of a FOTEMP or Insulogix series signal conditioner.
Specifications
 Temperature range
-40 °C to + 120 °C
Pressure
max. 200 bar (2900 PSI)
NPT size
¼"-18 MNPT ANSI
Threads

Standard: ANSI / ASME B1.20.1
60° thread angle

Connector type
ST
Probes
Compatible with all Optocon AG fiber optic temperature probes.
Specifications subject to change without notice
Ordering Information 
| | |
| --- | --- |
| EOF0008                                              | ST-to-ST Hermetic Feedthrough for Pressurized and Vacuum Vessel Applications, 1/4″-NPT Threads |
| EOF0050 | Single Channel ST-to-ST Hermetic Feedthrough for Pressurized and Vacuum Vessell Applications, KF40 Vacuum Flange |
| EOF0049 | Dual Channel ST-to-ST Hermetic Feedthrough for Pressurized and Vacuum Vessell Applications, KF40 Vacuum Flange |
| DIST-CXXX | Fiber Optic Extension Cables for external connection from Feedthrough to FOTEMP Signal Condition input |
| | |
| | |
Features
No moving parts
Support vacuum or pressure
No epoxy or O'ring