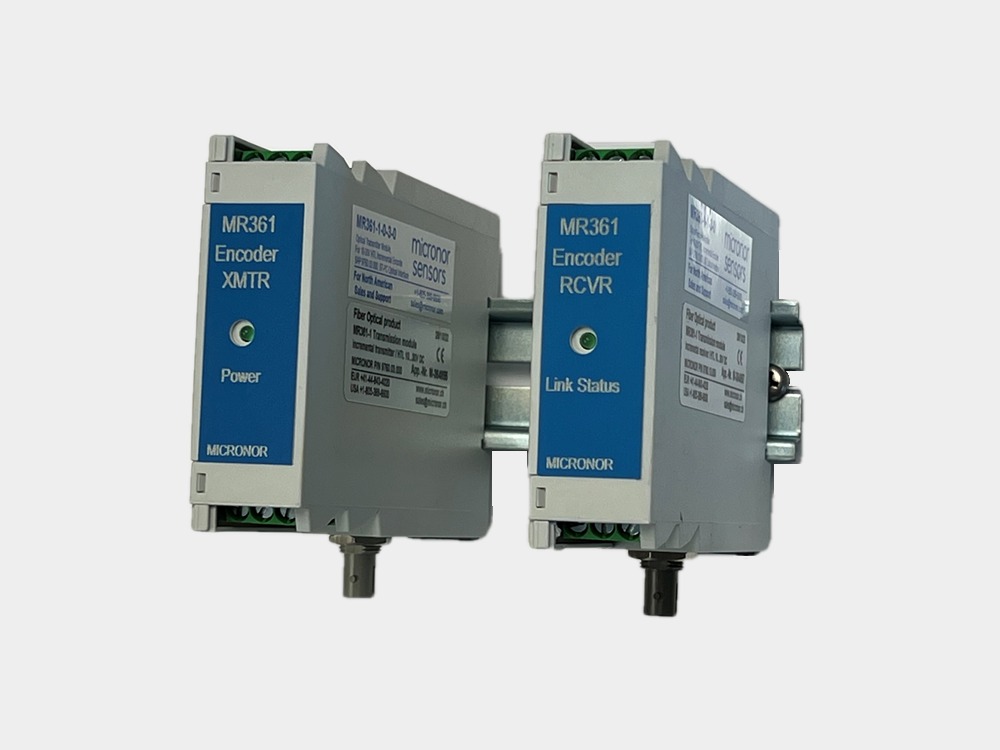 Typical MR361-1 VFD application requiring interference-free transmission of incremental encoder feedback, i.e large machinery, conveyors, generators, etc. Noisy motor drive lines corrupt sensitive encoder feedback routed in parallel via conventional electrical wiring.
Product Features
400 kHz bandwidth
DIN rail mount XMTR and RVCR modules
Models for +5 VDC or +10-30 VDC Encoders
Models for RS422 (TTL) or HTL/Push-Pull line drive circuits
Models for Wire Terminals only or DSub Encoder Connection
EMI/RFI immune fiber optic transmission link
Encoder Link can reach up to 2 km
Wide System Loss Budget
4 signal channels – unused channels can be used for non-encoder signals
MR361-1
Fiber Optic Extender System for Incremental Encoders
The MR361-1 series is our 2nd Generation Fiber Optic Extender Solution. It allows conventional electronics-based incremental encoders of all manufacturers (electronics based, optical or magnetic, such as Micronor ESI/ENI series) to reach longer distances by converting the encoder's A/B/Z quadrature signals to optical signals which can then be transmitted interference-free up to 2000 meters. The system provides some of the benefits of a Fiber Optic Encoder System (see MR340 series) when that solution might be impractical for a given application, or when a conventional encoder is already in place. The passive nature and inherent safety of fiber optics provides a safe means of routing sensitive encoder signals through noisy electrical areas or hazardous locations. The MR361-1 system operates with complete transparency to the motion control or motor drive system.
The system consists of a fiber optic transmitter (XMTR) and fiber optic receiver (RCVR) module. The XMTR module multiplexes the quadrature output signals of the user's encoder into a light signal. A simplex multimode fiber optic link transports the optical signal to the RCVR module which then demultiplexes the optical signal back into the individual electrical quadrature signals for connection to the encoder input of the User's drive or motion system.
The transmission system offers 4 signal channels. These channels can be utilized in a variety of signal configurations, including:
One Encoder with A+/A-/B+/B- quadrature pulses and index Z+/Z-. This leaves one unused channel that can be utilized for transmitting another signal – limit switch, emergency stop status, etc.
One Encoder with A+/A-/B+/B- quadrature pulses and no index. This leaves two unused channels that can be utilized for transmitting other signals – limit switch, emergency stop, etc.
Two Encoders with A+/A-/B+/B- quadrature pulse connections only. This utilizes all 4 channels.
Applications
Applications sensitive to interference
Passing signals safely through explosive areas (dust, gas and chemical) – oil, gas, mining/extracting, refining, chemical and food processing
Passing signals safely through high voltage fields – welding robots, switchgear, and arc furnaces
Mines, conveyors, and other motion control applications extending long distances
Variable Frequency Drive systems (VFD)
Medical
Ordering Information
Incremental Encoder Type
Transmitter Module with Terminal Clamps
Receiver Module with Transmitter Clamps
5V Encoders with RS422 Line Driver Outputs (Type 2)
MR361-1-0-2-0
MR361-1-1-2-0
10-30V Encoders with RS422 Line Driver Outputs (Type 0)
MR361-1-0-0-0
MR361-1-1-0-0
10-30V Encoders with Push-Pull or HTL Outputs (Type 3)
MR361-1-0-3-0
STOCK
MR361-1-1-3-0
STOCK