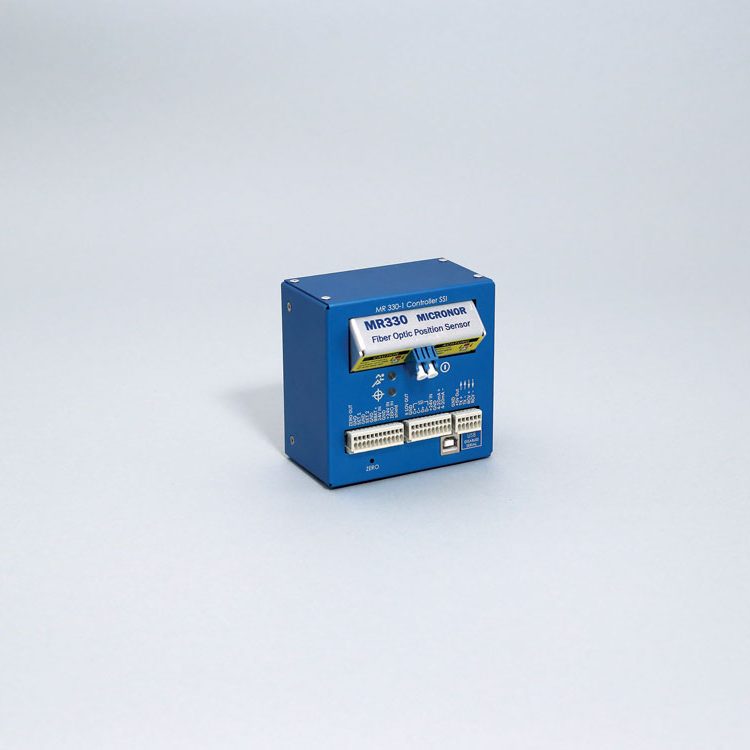 MR330
Controller Module
The MR330-1 Controller Module is the active optical and electrical interface for the MR330 series ZapFREE® Fiber Optic Absolute Position Sensor System. The module incorporates multiple built-in interfaces for compatibility with PLCs, motor drives and other motion control systems.
Specifications
The following is a summary of MR330-1 performance specifications when used to operate the MR332 Sensor. Consult separate MR330 Instruction Manual for detailed performance and interface information.
Position Measurement
Single Turn ResolutionI
13 bits (8192 counts, 0.044°), 14 bits (13.950 counts, 0.025°)
Multi-Turn Tracking
12 bits (4096 turns)
Electrical Interfaces
SSI
25 bits, Programmable baudrate 25 kHz -250 kHz
RS485/Modbus RTU
56,200 Baud Default, Consult instruction manual for software protocol details
USB
USB, Disables Modbus interface when used
Current Output
Isolated 4-20mA (270V isolation maximum), Output scalable by user
Voltage Output
-10V to +10V, Non-Isolated, Output scalable by user
Digital Outputs
0-24V maximum 10 mA Load (Zero + two programmable Set Points)
Power Supply
+16 VDC to +32 VDC, 100 mA max at 24 VDC

During Power Up, external power supply should be capable of 200 mA momentary output

Interface Update Rate
Angular Speed (É)
250 radians/second or 2400 RPM for accurate position reporting
Update Rate
1.17 kHz (850 μs)
Reporting Delay
SSI: Maximum 800 μs (time from actual position to SSI output)

Analog Outputs: Maximum 1.0 ms

Optical Interface
Interface
LC Duplex, 62.5/125μm graded index fiber, 0.275NA, Type OM1
System Loss Budget
2dB at 850nm
Maximum Optical Link Length
Up to 300 m (1000 ft)
Explosive Atmospheres
Interently Safe Optical Radiation
Ex classification
Controller shall be installed in non-hazardous location only Power supply to Controller shall be current limited to 200mA IECEx Test Report (IECExTR) GB/CML/ExTR 16.0070/00
ATEX
EPL Mb/Gb/Gc/Db/Dc
IEC Ex
EPL Mb/Gb/Gc/Db/Dc
NEC
Exempt
Environmental Performance
Temperature/Humidty
Operating: 0°C to +45°C, Storage: -15°C to +65°C, 25-95% RH (non-condensing)
Ingress Protection
IP30
Physical Attributes
Housing Dimensions
102 mm W x 102 mm D x 68 mm H, includes 35mm DIN rail mount
Unit Weight
600g (22 oz)
Specifications subject to change without notice
Features
Absolute 0-360° position sensor with 14-bit resolution
Multi-turn tracking to 4096 turns (12-bits)
EX rated Inherently Safe Optical Radiation
Sensor can be installed in any manner of hazardous location or explosive atmosphere – gas, dust or mines
Controller is installed outside the hazardous area
Interference-free transmission up to 300 meters
Interfaces
SSI Interface
USB interface
RS485/Modbus RTU serial interface
RS232 with optional MR232-1 adapter
Programmable 4-20mA output
Programmable ±10V output
Programmable Digital Set Points
National Instruments LabVIEW™ drivers

 

available

Cable Assemblies and Other Accessories: A full range of fiber optic cable assemblies and fiber optic junction boxes are available. Contact Micronor sales to discuss your requirements.