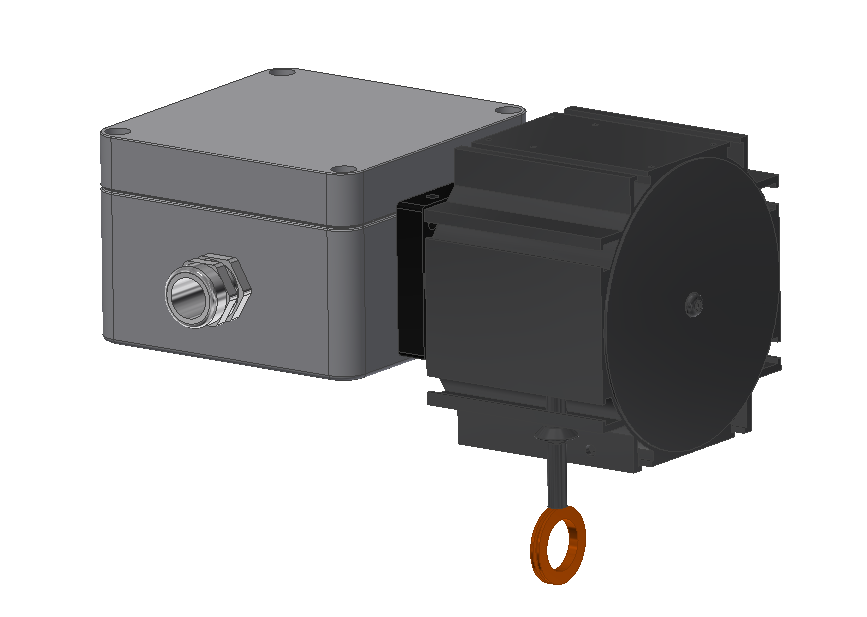 KWG120W
Geared Limit Switch with Draw Wire
KWG120W series is a IP-64-rated, closed-frame geared rotary limit switch with spring-loaded draw wire mechanism for linear position and actuation applications.
Specifications
| | |
| --- | --- |
| Cam Switches | 3, 5, 7 or 10 cam switch channels, all cams are fully programmable NK style double cams. Consult KWG120 – KWG160 data sheet for more information. |
| Travel Lengths | 1.5m,  3m, 5m, 7.5m, 10m, 15m, 30m, 40m, or 50m |
| Cam Switch Module | Proprietary copper-free corrosion-resistant aluminum alloy die cast housing with powder coat, stainless steel shaft |
| Draw Wire Module | Anodized aluminum housing, polyamid-coated stainless steel wire |
Ordering Information
KWG120W-w-xxM-y-z

Where
w=# of cam switches, 3-5 channels for KWG120W, 7-10 channels for KWG160W
xx=length of draw wire in meters (Options=1.5, 3, 5, 7.5, 10, 15, 30, 40, 50)
y=MR265 4-20mA loop-powered position transducer output option, y=0=No, y=1=Yes
z=Draw wire pull direction, z=0=Down, z=1=Up, z=2=Right, Z=3=Left. Directions when facing the Draw Wire Module.

Example:
KWG120W-3-5M-0-0
Draw Wire Length=5m, 3x cam switch channels, No MR265 4-20mA option, Pull down direction.
Features
Fully Programmable, Double Cams
3-12 Cam Switch Channels
1.5m to 50m Travel Length
Contact Micronor Sales with your requirements
Applications
Patient cradle in Computer Tomography and MR Imaging
Height of lifting platforms
Open, closed and intermediate positions of door or dam gate
Extension of hydraulic cylinder
Extension of booms in mobile cranes and utility service trucks
Gate position on dam or flood control basin