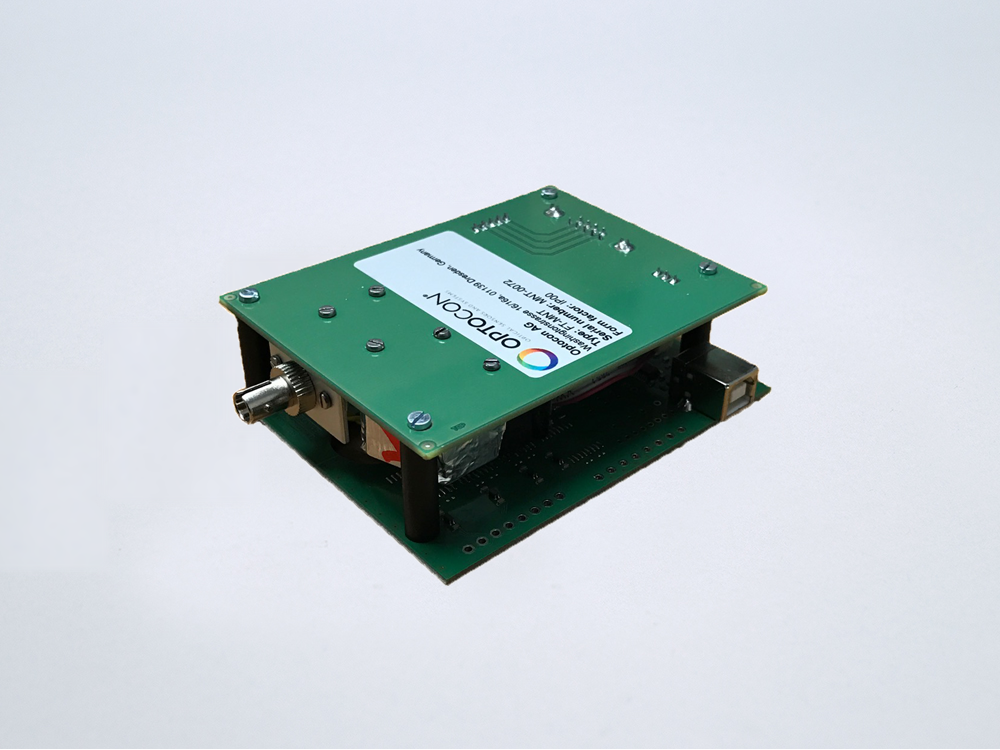 FOTEMP1-OEM-MNT
OEM 1-Channel Fiber Optic Signal Conditioner PCB Module
The FOTEMP1-OEM-MNT is a small form factor PCB interface module designed for low cost insertion of high precision GaAs-based fiber optic temperature sensor technology into OEM applications where common electrical temperature sensors and thermocouples cannot be used.
The OEM interface product is compatible with all TS series fiber optic temperature probes. The sensors are entirely non-metallic and electrically passive, providing immunity to EMI, RFI, MR, microwaves and radiation is required.
Specifications
Number of channels
1
Power supply
12 VDC
Power supply
350 mA
Measuring Range
—200°C to +300°C
Accuracy
+/— 0.2 °C
Resolution
0.1 °C
Sampling rate
2 Hz
Digital interface
RS-232/USB/SPI
Serial protocol

ASCII over RS232/USB.

See FOTEMP-Assistant data sheet for ASCII protocol details

Data logging
Supplied with FOTEMP-Assistant software. Excel compatible.
Optical inteface

ST, compatible with all TS series

fiber optic temperature probes

Temperature

Storage: -20°C to +70°C

Operating: 0°C to +50°C

Weight
140g
Dimensions
100 x 80 x 30 mm
Warranty
2 years
Calibration
Standard -40°C to +250°C
Calibration Intervals
Under normal use, the instrument does not require recalilbration. When sensors and cables are changed, a One-Point Calibration is required. Recommended cal interval is 12 months for ISO systems.
Specifications subject to change without notice
Features
Designed for OEM integration
Very small size, compact footprint
Modular electronics support various device configurations
1 channel
Measuring range: — 40°C to + 300°C
High accuracy: +/— 0.2°C
Standard built-in RS232/USB/SPI interfaces
Attractive volume discounts
Interfaces
Applications
EMI, RFI and microwave environments
High voltage environments
Harsh and hazardous environments
Nuclear environments
Aerospace applications
Process monitoring
Medical and imaging applications (MRI)
Ordering Information
FOTEMP1-OEM-MNT-X
Fiber Optic OEM PCB Signal Conditioner
where

 

X=Analog Output Option: Blank=None, M=4-20mA
Quick Ship Configurations
| | |
| --- | --- |
| FOTEMP1-OEM-MNT | OEM Signal Conditioner, 1 Channel, USB/RS232/SPI, Calibration= -40°C to +250°C |
| FOTEMP1-OEM-MNT-M | OEM Signal Conditioner, 1 Channel, USB/RS232/SPI, Calibration= -40°C to +250°C |
| TS2 Sensors, General Purpose | TS2-02 or TS2-06 |
| TS3 Sensors, General Purpose, Rigid Tip | TS3-10MM-02 or TS3-10MM-06 |
| TS4 Sensors, Harsh | TS4-02 or TS4-06 |
| TS5 Sensors, Medical | TS5-20MM-02 or TS5-20MM-06 |