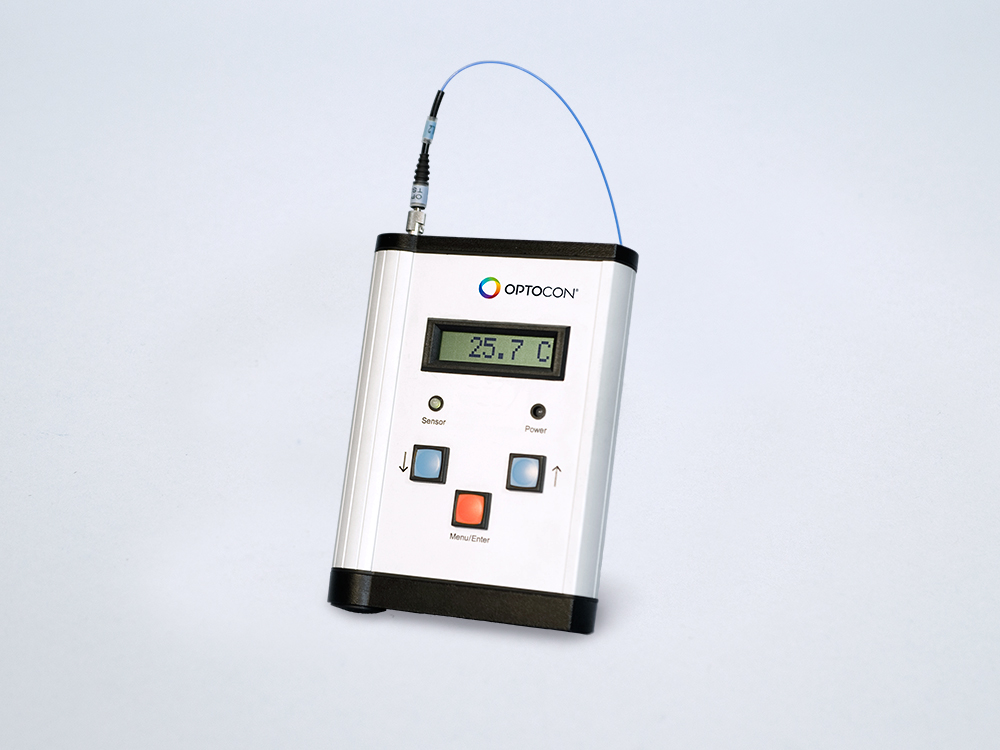 FOTEMP1-H
OEM Fiber Optic Signal Conditioner
FOTEMP1-H offers unique flexibility. Battery operated for maximum flexibility, the user can move easily from one measurement point to the next. The internal rechargeable battery offers continuous operation for at least 5 hours and be charged/operated with the supplied wall plug-in AC power supply.
The FOTEMP1-H single-channel, handheld signal conditioner features a large LCD display with LED backlight and RS-232 communication port for real-time data acquisition. It can be controlled directly using the front-panel keypad or the supplied "FOTEMP-Assistant" data logging software. One LED indicates battery charging status while second LED displays sensor status.
The TS series temperature sensors are completely passive, non-conductive, and thus immune to EMI, RFI, microwaves, high voltage and ground loops. Ideal for making temperature measurements in high electromagnetic field environments such as MRI, in microwave fields and other environments, where measurement with RTDs, thermocouples, and electronic-based temperature sensors is not possible.
Specifications
Number of channels
1
Power supply
9-12 VDC, 350mA, included
Measuring range
—200°C to +300°C
Accuracy
+/— 0.2 °C
Resolution
0,1 °C
Channel sampling rate
2 Hz
Communications

Standard: RS-232

Option: RS485 or USB via adapter

Data logging
Supplied with FOTEMP-Assistant data logging software.
Display
LCD 1 x 8 digits, LED backlight
Optical interface
ST, compatible with all TS series fiber optic temperature probes
Temperature

Storage: —20°C to +70°C

Operating: 0°C to +50°C

Dimensions/Weight/IP
205 x 138 x 35 mm, 0.9kg, IP54
Materials
Aluminium, Metallic
Warranty
2 years
Calibrations

Standard -30°C to +300°C

Optional -200°C to +300°C

Calibration Intervals
Under normal use, the instrument does not require recalilbration. When sensors and cables are changed, a One-Point Calibration is required. Recommended cal interval is 12 months for ISO systems.
Specifications subject to change without notice
Features
Portable
Rechargeable battery operated
Measuring range: — 200 °C to + 300 °C
High accuracy: +/— 0.2 °C
Large backlit LCD-Display
Built-in RS-232 interface
RS485 or USB interface option
Applications
EMI, RFI and microwave environments
High voltage environments
Harsh and hazardous environments
Nuclear environments
Aerospace applications
Process monitoring
Medical applications (MRT)
TO ORDER
Call 805.389.6600
Ordering Information
FOTEMP1-H
TS series temperature probes available from stock:
TS2-02 TS2 General Purpose, Length=2m
TS2-06 TS2 General Purpose, Length=6m
TS3-10MM-02 TS3 General Purpose, L1=10mm, L=2m
TS3-10MM-02 TS3 General Purpose, L1=10mm, L=6m
TS4-02 TS4 Harsh Chemicals, Length=2m
TS5-20MM-02 TS5 Medical, L1=20mm, Length=2m
TST2-02 TSTRAFO Transformers, Length=2m
TSNANO-02 TS Nano, Length=2m
Other lengths and configurations available upon request. Contact Micronor to discuss your special temperature monitoring application and requirements.