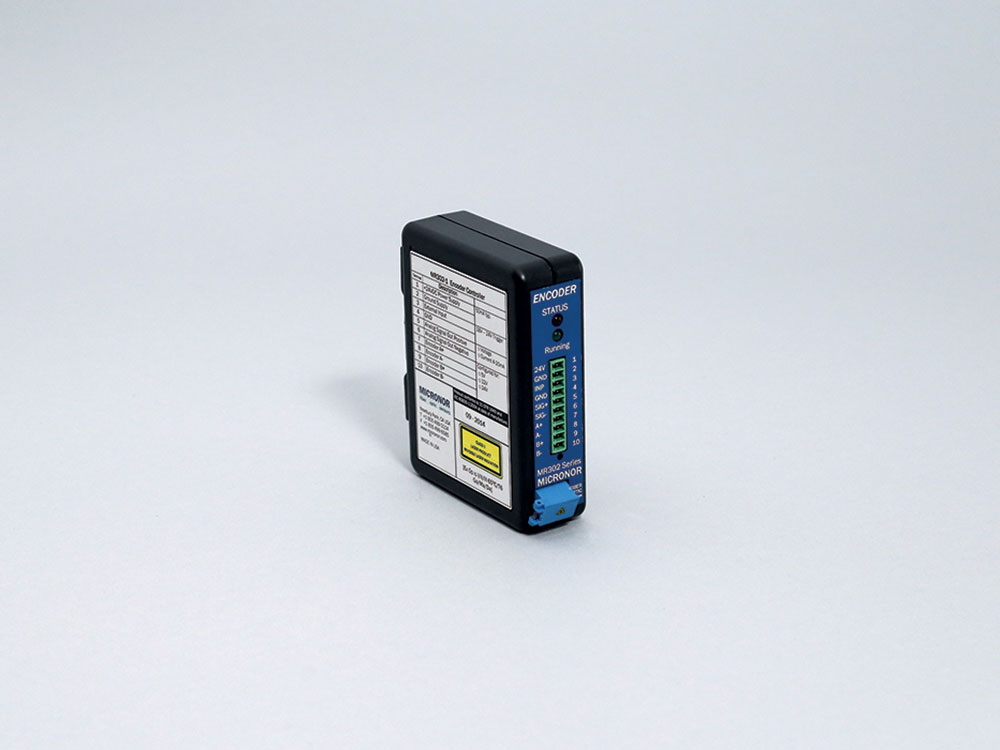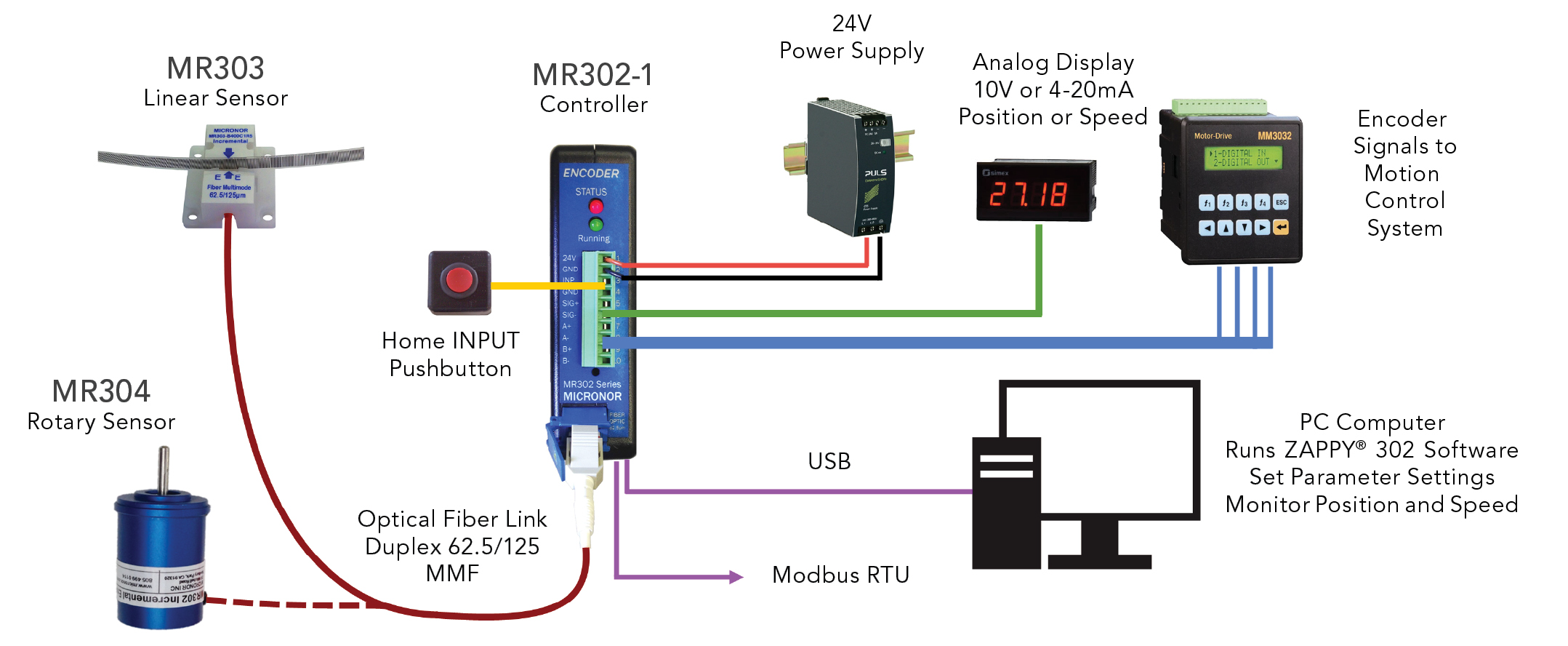 MR302-1
Incremental Encoder Controller
The MR30X series fiber optic position sensor system is an innovative all-optical design immune to any electro-magnetic interferences such as magnetic fields, lightning, voltage, and other harsh environment conditions. The MR302-1 Controller works with any of the MR30X series fiber optic incremental encoders – rotary or linear.
The Sensor is connected to the Controller via an industry-standard 62.5/125μm duplex multimode fiber optic link. As the incremental code media passes through the Sensor's internal optical pick-up, the phase output of two light beams create the classical A/B quadrature signals accessible via the controller's electrical interface.
The controller keeps track of position and also calculates the RPM or linear speed of the connected encoder. Both position and speed can be read via Modbus/RS485 serial interface, USB or analog output. The analog output can be configured for either ± 10V or 4-20mA output.
The system has built-in diagnostics and can signal to the user any anomaly occurring during operation.

Specifications
Electrical Interface
NOTE: Electrical connections shall not exceed 3 meters
Connectors

Electrical connections via Terminal Plug, Phoenix 1803659 (one supplied with Controller)

USB via Type B receptacle, Modbus via IEEE 1394 receptacle

Quadrature Outputs
A+/A-/B+/B- line driver outputs are user configurable: 5V, 12V, 24V; 100 kHz maximum bandwidth
Discrete Digital Signal
HOMING Input (24V)
Digital Interfaces
USB and Modbus/RS485
Analog Output

User selectable: ±10V or 4-20mA, Position or Speed Mode

Current Range=0-20mA, Max burden resistance=500Ω (24V supply), Accuracy=0.25% F.S.

Voltage Range=±10V, Max current=5mA (2kΩ load), Short circuit<5s, Accuracy=0.25% F.S.

Position Mode: Full scale range is 1 to 8,388,607 counts (equivalent to >8,192 revolutions of a 1024ppr encoder) based on contents of internal counter. Either Homing Input (+24V) or software command may be used as a Homing command to set absolute position.

Speed Mode: Full scale range can be programmed from 10 to 10,000 RPM

Power Supply

+24 VDC, 50mA (typical); Operates over 18V to 28V

During power-up, external power supply should be capable of 100mA in-rush current

Optical Interface
Interface
LC Duplex, 62.5/125μm Graded Index Fiber, 0.275 NA, Type OM-1
System Loss Budget
12dB
Maximum Distance
Up to 2000 meters (6560 ft) with MR30X series Sensor
Explosive Atmospheres
EX Classification

Inherently safe optical radiations

Controller shall be installed in non-hazardous location only

ATEX
EPL Mb/Gb/Gc/Db/Dc
IEC Ex
EPL Mb/Gb/Gc/Db/Dc
NEC
Exempt
Environmental Attributes
Temperature/Humidity
-5°C to +55°C (23°F to +131°F), 0-95% RH, Non-Condensing
Ingress Protection
IP30, Keep free from contaminants
Physical Attributes
Mounting
35mm DIN rail or screw mount
Dimensions
114 x 89 x 32 mm (4.5 x 3.5 x 1.25 inches)
Weight
260 g (9 oz)
Specifications subject to change without notice
Applications
Robotics
Medical
Industrial
Mines
Features
Supports all MR30X series rotary and linear sensors
Compact DIN rail mountable module
Operates from 24 VDC
Programmable line driver quadrature outputs (5V, 12V, 24V)
Programmable output: ±10V or 4-20mA, Position or Speed
USB interface for parameter setting
Encoder links up to 2000 meters
DIN rail mount and OEM controller options available
TO ORDER
Call 805.389.6600
Ordering Information
Linear Encoder
MR303-B400CXX, Consult MR303 data sheet for product information
Rotary Encoder
MR304-E03CXX, Consult MR304 data sheet for detailed producct information